Dear C.S. Lewis,
My mom read chapters of
The Chronicles of Narnia
to me and my little sister every night before bed when I was growing up. I loved fantasy from the very beginning, and you brought me to this magical world over and over again. By the time I was nine or ten, I was reading them myself—over and over again.
I know that these books influenced me. I know that they still do influence me. As many books as I've read over the years, your
Narnia
books will always be the ones that built a framework for my abundant love of fantastical tales.
Thank you for that.
Sincerely,
A Fan
Dear Cass,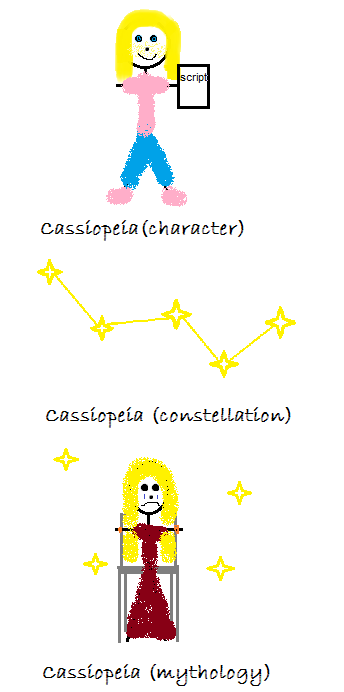 I think out of the six sisters that were in my 2009 NaNo Novel, you got the short-end-of-the-name stick. Yes, you all had names from Greek mythology, but you probably had it the roughest as a little girl. Aside from the nasty nickname kids came up with, you also had to learn to
spell
Cassiopeia.
I
couldn't even write that out correctly for a while! I kept swapping E for I or mixing up vowels at the end.
I'm giving you a mention here today because you were the sister that I felt I knew the least when I wrote this novel. (Which was still more than most characters when I start a book--it was crazy how fully-formed all of you guys were when you dropped into my head that October.) But when I went back after NaNoWriMo to read everything I'd written, I was very surprised to find that there were several little things about you that were consistent throughout the book and that helped make you unique—things that I hadn't even realized I'd written. People might think that I'm crazy for not knowing exactly what I wrote, but perhaps those who have written a novel in a month will understand that sometimes when all of those words are coming out, you really don't remember.
And I have to tell you, it was an awesome experience to see everyone true to character and personality, but it was especially awesome with you, since you were the one I was most worried about.
Thanks for being you (and sorry about the awful childhood nickname),
The Rambling Writer
*Two questions for today:
1. Is there a particular author who has influenced you a great deal?
2. Is there anything you've ever written—no matter how small—that helped build your story/characters, and you didn't realize it was there until you were rereading it?