I'm back! Finally! Today I'm exploring the very simple idea that your world needs rules. I don't mean writing rules; I mean you need to have boundaries established for your world.
There are two major elements in a lot of world-building that I'm going to tackle today: science and magic.
Your world is almost positively going to be bound by some kind of rules of science. Gravity, heat, geology, plants, animals, etc. Even a lack of these things could exist on your world, but there would be reasons and repercussions. No gravity—how do people live, then? They live on world of ice—how do they keep warm?
Your world can be anything you want it to be, but if there aren't boundaries and rules, no one is going to understand it. If you have flying porcupines, fantastic, but make sure that we know if there are limitations or problems with this.
In the last novel I wrote,
Rising,
I created technology that all ran off of one particular source of energy. I've spent the past year and some odd months inventing the various kinds of tech used by this world. I had to know how certain things worked and everything had to be consistent. Aside from imaginary technology, I also had some science that was extremely important to the story. I did a ton of research on the internet, read a lot of things, understood some of it, and got a headache trying to figure out other parts of it and how it would relate to my story. Could I do Option A? Would that be plausible? What about Option B? Would it make sense based on the scientific rules established in this world? What other options did I have? Would I lose my mind before I figured it all out?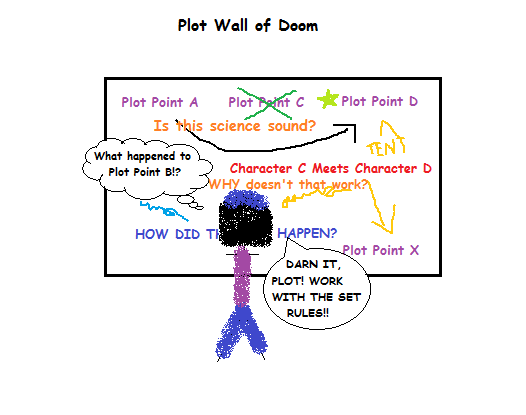 That's when I went to my brilliant friend Emily, who is my go-to for Things Science Related, and she explained this particular science to me clearly and helped me piece together how some things would plausibly work and how some things wouldn't work.
The "wouldn't work" bit was just as important as the "would work" stuff. It meant that I was stuck with certain things I couldn't do, because I would be undermining the established science of this world. I had to then reevaluate my plans and figure out how to solve the plot problems based on this knowledge.
The same thing works for magic you have in your world. When my co-author and I began to plan and write our Restoration series back in 2003, we decided to base the magic on the elements. There are limitations—some magic is harder than others, the ones doing magic can get exhausted easily, stuff like that. There are some things we haven't explored yet, but in a long series, we have a time and a place in different books to explain certain things.
The point is, you have magic, great, but what are the rules? Are there limitations? Limitations can help your characters. Everyone has a weakness (or they should). Even the all-powerful genie in Disney's Aladdin was bound by rules. He could grant any wish, yes, except he was a prisoner of his lamp and bound by his genie laws.
We don't create rules to frustrate ourselves (though ohhh, the rules we create can lead us to some frustrating situations). We create rules so that we know how our world operates and how we can plausibly build our plot. Rules shouldn't create confusion. They should add to the world and give you and your readers a solid grasp on what's possible for that world…and what isn't.
*Have you found the boundaries of your worlds helpful? Have you had to reevaluate your plot or plan something because of the established rules of your world?