Everyone builds worlds differently. Everyone writes differently. I know there are so many writers out there who have built far more worlds than I have, but I'll share what I can from my experiences and I hope that you guys will share your thoughts and world-building techniques, too.
In all of the novels I have written and/or co-written, I've had the chance to develop several different types of worlds. Each of these worlds required different types of building blocks to be established and I've learned different things from each one.
I was torn between talking with setting and characters today, because they go hand-in-hand in many ways. Of course you have to have a setting. What is your setting? A world covered with mountains? Post-apocalyptic Earth where the only continent habitable now is Antarctica? People living in boats, trains, floating cities, normal houses, caves? You need to figure out what your world is like, and I will talk more about developing setting in my next world-building post. Right now, I'm focusing on what I learn from characters, because when it comes down to it, I start my world-building with them.
I am a "character author." My novels begin when a character walks into my head and says, "Hello, you're going to write my story! No, I don't care if you don't know what the setting or the plot is; you'll figure it out! Now let me make myself comfortable in you brain and I'll poke at you with a stick until you figure out what kind of world this is."
More than that, characters are the eyes and ears and voice to tell the readers about your world. (Unless you are telling the story in omniscient narrative, which I don't do--I would feel too disconnected from the characters.) I'm not talking about info-dumping; I'm talking about letting readers learn what the world is like by what a character sees, thinks, and does.
Let me throw some examples out there.
Example 1:
Character sees a giant pointy-toothed cat and isn't fazed by it. I know now that giant, ferocious looking cats are a natural part of this environment. Character isn't afraid of it, maybe I shouldn't be worried either.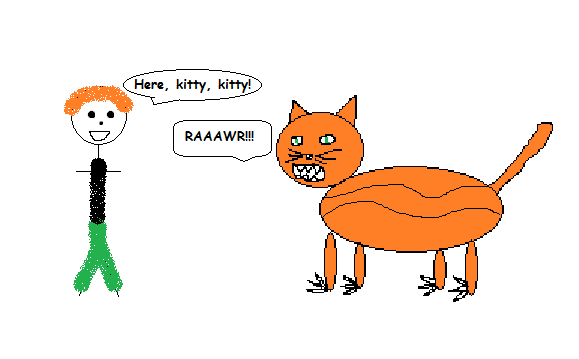 Example 2:
Character observes a street full of people carrying white lilies. She realizes that someone must have died, because white lilies are the symbol of death in this world. Later in the story, someone approaches her with a white lily and I'm freaked out because:
Ahhhh!! Who died!?!?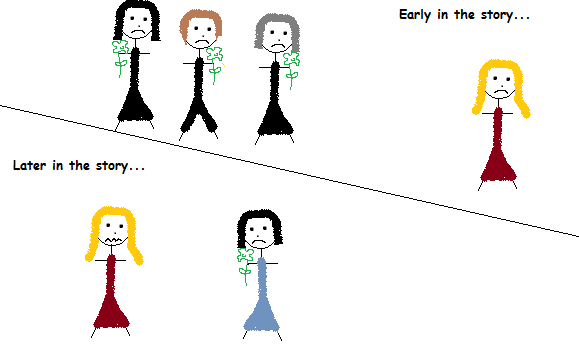 Example 3:
Character loves this restaurant. She goes there every week, and we find out through the gossip of a couple servers that her dad took her there when she was little. After her dad died, she's come there by herself. Later in the story, when the restaurant is destroyed in a storm, we feel the loss of the character's haven.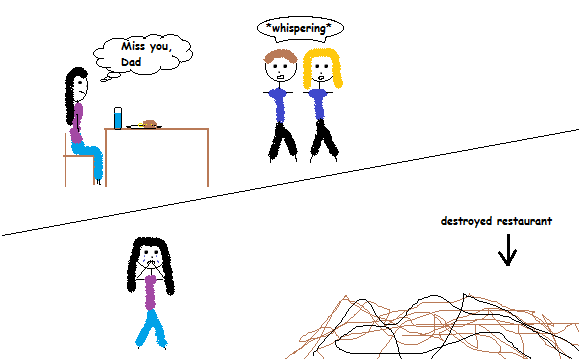 We didn't just learn about the characters, we learned about the world around them, what is happening in the story, and what their environment is like.
*What are your thoughts on characters and how they shape your world and settings? Or do you come up with your world first and shape your characters around that?