I have this thing with artwork. I find it very, very inspiring--kind of like I find music inspiring when I write. There are certain songs that come to "belong" to certain stories or characters, and listening to those songs helps me so much when writing those characters or that story.
My friend Holly (who has done artwork from my books before, and who did the cover art for
Confessions from the Realm of the Underworld (Also Known as High School)
, made more art from the books I'm currently writing. There are two books for this particular story, because it got too long to cram into one book. The first book is written, polished, betaed a gazillion times, and edited a gazillion more times. The second book is the one I'm writing, and so having art of my two main characters to look at makes me giddy and inspired more than I can say.
And because I am totally sharing her talent whenever possible, here is my friend Holly's art of my two characters, Lachlan and Brenna, from my books
Rising
and
Rising 2.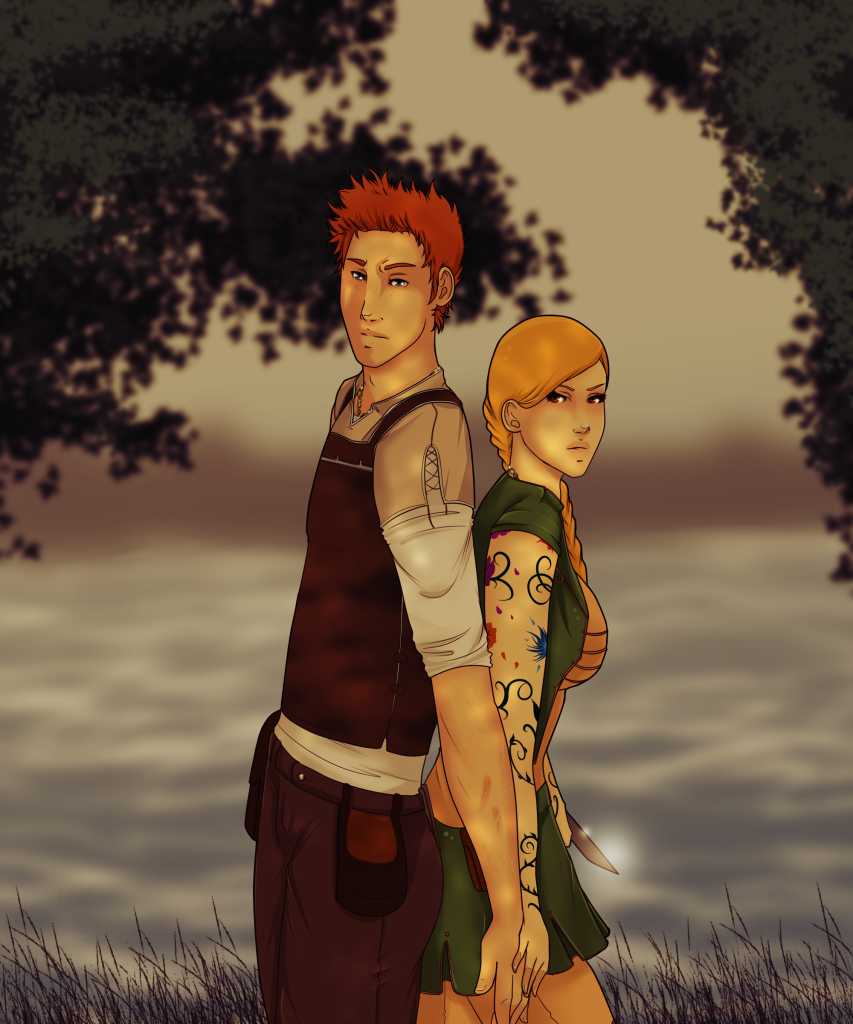 Brenna and Lachlan, Rising and Rising 2 © Laura Josephsen
Art © Holly Robbins
This also gives me a chance to talk about fear in writing characters. Those two characters portrayed above? When I first realized that in order to do this story justice, I needed to use their points of view and tell their story, I was terrified. I have never been scared of writing characters before, because exploring characters gives me the opportunity to get out of my head and into theirs, and to delve deep into a lot of things, and I love that.
Delving deep into Lachlan and Brenna's heads was daunting and scary, because I knew it was going to push me out of all of my comfort zones. Writing quite a lot of parts of
Rising
was already difficult and emotional and intense, and I knew that
Rising 2
was going to be even more so. My characters have been through a lot, and I'm only adding to what they're dealing with. I worried that I wouldn't be able to do justice to their story. I worried that I was going to cross some lines that I might not be comfortable with. I came to realize, though, that to
not
tell their story would be unfair. Characters aren't cookie cutter people. I couldn't just say, "These characters would
only
do this, because that is ALL I am willing to write." Well, I could, but it would have made for a really flat story and characters who weren't true to themselves.
Characters aren't me. I may not like what they do. I may not be comfortable with what they do. I may not agree with with it. But
because
they're not me, they're them, sometimes that means stepping way, way outside of my comfort zone to do justice to who they are and what their story is.
Nine months after realizing I was going to need to write their points of view, I am not terrified of writing them anymore. I am excited about it, and I'm plugging my way through the first draft of their story.
My questions to you today are: Have you ever been scared of writing a character? Did you do it anyway? Do you think that you could write a sympathetic character who behaves in ways that you completely disagree with?
I know there are a lot of people who write characters they disagree with, and by the end of the book, the character has seen the error of his/her ways based on what the author thinks is correct. That's fine. But what if the character never thinks what they're doing is wrong? People aren't clear-cut, and characters aren't either.
I'm very, very interested in others' thoughts on this, since I've spent many months contemplating a lot of this.