You know when you really, really want to write, and you set some time aside to do just that...and then
nothing comes?
Or something comes, but it's all blah and you feel so listless with it and it's not quite right?
Yeah, that's me with my novel this month. I'm familiar enough now with how I write to know that each book is written a bit differently. With some stories, I can dive right into and push forward. Others take more consideration before I plunge in. Right now, I've been trying to force myself to write, and my brain is screaming at me to cut it out because it's in the "simmering" phase. I thought I was ready. I know the story I'm writing--it's the sequel to another novel, so I have the world and main characters established, but this week has shown me that I need to let it sit and stew in the back of my head for a little while longer. It's right there, on the edges of my brain, and I know that if I just give it a little bit of time, it'll come pouring out.
Waiting can be
hard,
though, when I just
want to write it now.
This week went something like this: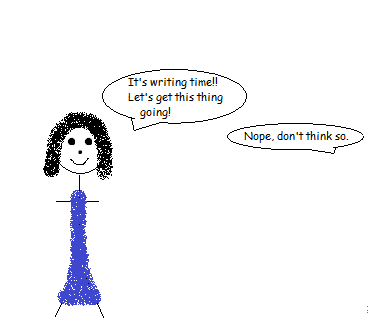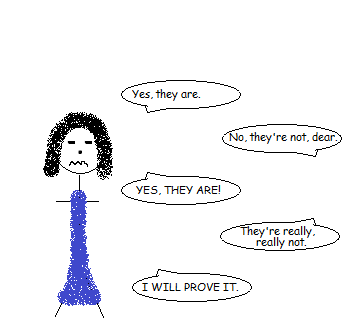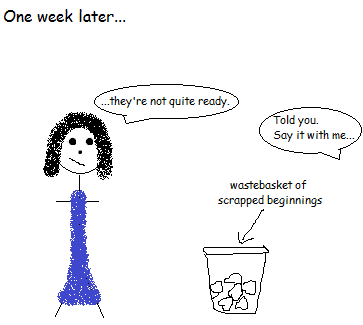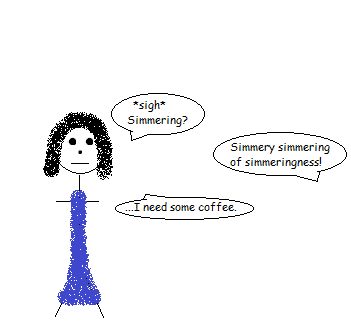 The thing is, this is part of writing for me, too--allowing everything to sit and churn around in the back of my head while I do other things.
Does this happen to you when you're writing, too? (Or
trying
to write?)