We all have quirks--the little things about us that we do differently from other people. In today's blog, I'm going to be talking about physical quirks—the little things characters do that distinguish them from others.
This might not seem like a very important thing, but when I think of all of the elements that tend to make up my characters, this is actually a very big part of it. There have been a couple of times where I deliberately chose to make a character different in a physical way (like making a character left-handed), but what I'm talking about here are more the gestures or traits that characters might have. These are things that I don't plan—the characters show them to me as I begin to write them. These quirks distinguish one character from another in a very small way, perhaps, but it's a lot of small things that add up to making a character seem real. Some quirks might depend on occupations or backgrounds. For example, one character I have is a mechanic, and she has a tool in her pocket that she fiddles with when she's concentrating, upset, or scared.
Here we have some handy stick figures to show some of the other things I'm talking about.
Character 1 rubs the back of his neck when he is uncomfortable or not sure what to say.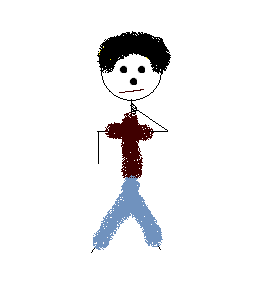 Character 2 winks. He just does. He's a flirt. I mean, with that hair, who wouldn't be attracted to him?
Character 3 rips any paper within grabbing range into little bitty pieces when she's anxious.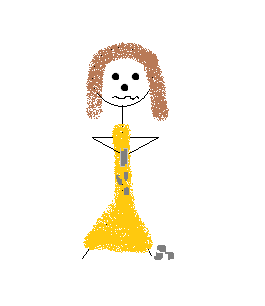 Character 4 likes knives. A lot. She's very good with them and maybe sometimes she spins them around in her fingers.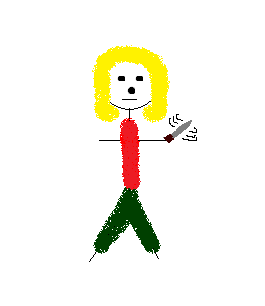 Some characters might be very well-trained in certain ways and might not have obvious quirks. I have another character who is a bounty hunter and so far, she has not shown me any noticeable quirk. I think that for her, she's had so much training and control over herself that that
is
her quirk—to keep still and keep every action deliberate. We'll see if this remains true as I write more about her, but this is what I'm guessing right now.
The only thing about character quirks is that you have to be really watchful of how many times the character
does
theirs. If you have a character shrugging their shoulders a hundred times in a book that's a hundred and fifty pages long, people might get quite annoyed with all that shrugging. As with most things, there is a balance.
What do you think? Do your characters have quirks? If so, what are they? When you're writing or reading, do you think that quirks distinguish one character from another or do you think it even matters?